It was a particularly wet year. The winter was unusually mild whereas the spring and summer were relatively cool. A severe frost in April, and to top it off a strong attack of mildew in early June.
So, what the 2021 vintage will look like?
08/04/2021:  Frost has arrived!
Temperatures below 0°C appeared around 10:00 PM and dropped down to -4°C for 2 successive nights. Unfortunately, wind turbines blowed cold air only: throughout the night our team lighted fires to keep the vineyard warm but cold air masses were too significant and widespread.
All of our vineyards are being affected:
On the plateau, our vines of Bordeaux Supérieur and Lussac were at an advanced bud burst stage: buds were fully developed, 2-4 leaves per vine plant were well spread out and were therefore highly sensitive cold. Secondary buds were well-advanced too on a large number of our vine plants, thus reducing the possibility that we may save some grapes.
Estimate of losses: 90% damaged!
Our vines of Lussac and Montagne over the hillsides and small hills of the vineyard were also damaged, a few secondary buds have been saved however:
still 80% damaged at least…
At the foot of hillside where our wind turbines were installed, the vegetation was less developed and secondary buds are spared, and the few developed buds as well:
60-70% damaged.
The unaffected secondary buds should grow and develop bunches of grapes of more or less small size: we are well on our way to have the same low production as 2017, around 20% with the same technical constraints…
We shall know at the beginning of May. In the meantime, we must have faith…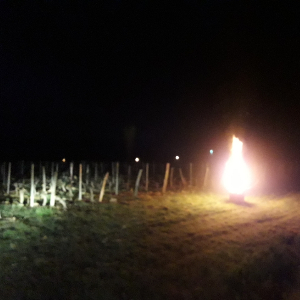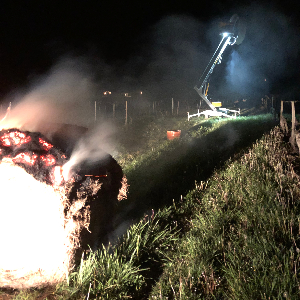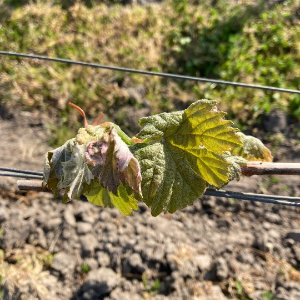 Vines badly damaged by frost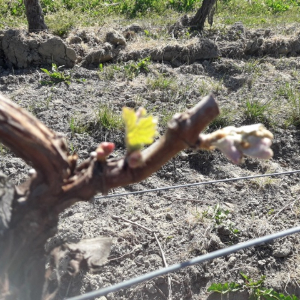 14/04/2021:  when it comes to assessing the damage
The vine could not resist… Spring frost caused 90% of losses over 40 hectares and 60% over the remaining 2 hectares. It takes 15 more days before secondary bud burst, so we still have to wait. We will add it all up later, but it is roughly equivalent to 2017, the production output will reach a maximum of 300 hl instead of 2000!
Wind turbines and fire devices could not protect the vine from the freezing wind over the last few nights.
22/07/2021:  here's the mildew!
We had a lot of rain in April through July, we are definitely unlucky this year and it is becoming difficult to protect the vineyards. The mildew is now there, leaving us without hope to save the vines. The coming harvest season promises to be difficult and complicated.
30/09/2021:  let the harvest begin in Lussac
We waited for full ripening before starting to harvest the first berries. We must be more vigilant than ever about the quality of this extremely difficult vintage. We have to focus on manual harvest for the most delicate grapes with an extremely rigorous sorting before vatting. We have not the same degree of ripeness throughout the vineyards, now more than ever, we need to adapt accordingly.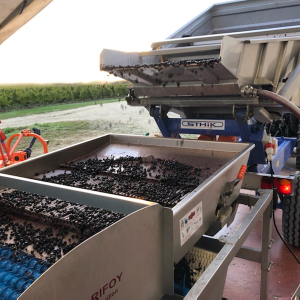 First harvesting buckets arrive in the early morning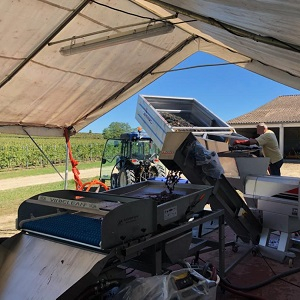 Manual harvest on grape destemmer and sorting table