The year 2020 is, to say the least, an unusual year in which the emergence of the Covid virus renders even the near future doubtful and uncertain, turning our habits upside down.
Despite an unprecedented economic and social chaos we had to closely monitor the ageing conditions of our wines, as well as our vineyards, and harvest the grapes with a face mask!
Luckily the weather was milder in the spring: no hail or snow, and the recently installed wind turbines helped us to avoid frost incidents in early May. However the first half of June was very wet. Strong and frequent rainfalls led to outbreaks of mildew while the vines were in full bloom. 10 to 20% of grapes were attacked depending on the plots' exposure.
Early blooming (at least 2 weeks in advance) might have led to an earlier grape harvest. But we spent a dry and very hot summer and heat waves caused water stress, slowing the veraison (*) at first and then stopping maturity of the grapes.
(*) Veraison:  when the grapes begin to change colour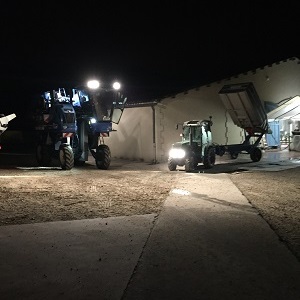 In the end thunderstorms in late August helped the grapes' maturity and the sugaracidity ratio was finally optimum from 10 September for our merlot grapes. Phenolic ripeness was optimal as from 15 September for our youngest plots. 2020 looks therefore promising. We began the manual harvest on September 14th over 5 hectares of our younger plots, and grapes were collected mechanically from 18 September, one week ahead of 2019 vintage. In order to protect the grapes from excessive heat in September we were obliged to harvest very early in the morning and take advantage of the coolness of the night.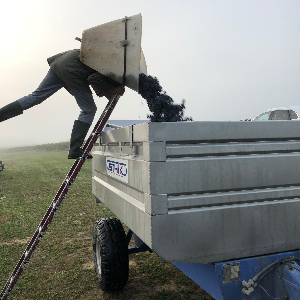 The harvest is a challenging period during which the fresh grapes must be quickly brought to the cellar. Then the grapes are carefully sorted before vatting. The wine making process can now begin and will continue over the next 3-4 weeks during which we will be dedicating a great care to the 2020 vintage elaboration, 24 hours a day.
At this stage we cannot reasonably say that 2020 will be a great vintage but the fruit is of high quality, very nice!!
We do know one thing, with the announcement on 17 March of the strict sanitary measures, the 2020 vintage will have a particular flavour …