As a result of the risks to health associated with Covid-19…
We have all heard it many times unfortunately during the long weeks which we have just left behind.  Definitely an experience we won't forget, and the coming days will be incredible and outlandish.  So many events deferred or cancelled, so many projects failed, so many unanswered questions.
The traditionnal En Primeur Week in Bordeaux will not take place as planned every year.  This not-to-be-missed event for wine professionals stepped down, pending a new date.  No matter, the 2019 harvest of La Claymore is there, enclosed in our cellar and sheltered from the world.  By late August we had predicted that 2019 would be a very good year.  Ageing is at a mid-term stage and early tastings have confirmed our expectations:  2019 is well done and reflects the nice Bordeaux years:  powerful but soft.  We look forward to make you taste it!
What our oenologist Stephane Toutoundji says (Oenoteam)
«2019 is a skilful mix of a classical and a sunny wine.  The wines are very aromatics, the nose is relatively open and fresh with nice purity despite high alcohol level.  Mellow woodiness, well-balanced, ripe tannins but not sticky.  The palate is precise with beautiful acidity.  A vintage of contrasts, very interesting as it is fruity, fresh, tasty and complex.  A "must drink" vintage!!! »
and what professional tasters say:
Château La Claymore 2019
89-91/100 by Yves Beck – "Dense garnet red colour with violet hints. Enticing bouquet of morello cherries and spicies. Fresh and tasty on the palate. Beautiful structure, refreshing with well-defined tannins. A full-bodied wine, lively with a beautiful fruity feel. Should improve with age, full of promise. 2024-2034."
89-90/100 by James Suckling – "A round-textured, fruity red with clean, ripe fruit and a chocolate and walnut aftertaste."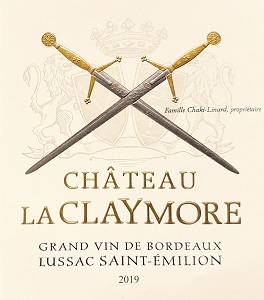 Château Flaunys 2019
88-89/100 by Yves Beck – "A purplished crimson colour. Delicate bouquet of blackcurrants and blueberries. Tasty and juicy on the palate. The wine is pleasant, well-balanced with well-incorporated and fine tannins. Also enjoyable young. 2023-2032."
87-88/100 by James Suckling – "A juicy, fruity red with plum and chocolate character, medium body and a savory finish."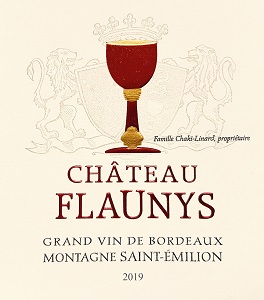 We should warmly welcome this beautiful vintage, and hope that it will help us to experience some beautiful moments of warmth and enjoyment with family and friends!